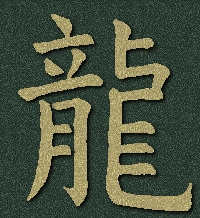 Legends of the Dragon
The myriad legends of the Chinese Dragon permeate ancient Chinese civilization and shaped their culture even today. Its benevolence signifies greatness, goodness and blessings. Instead of being feared and hated the Chinese dragons are highly respected creatures of good fortune that bring ultimate abundance, prosperity and good fortune. Chinese mythology says dragons control the rain, rivers, lakes, and seas. Many Chinese cities have pagodas where people used to burn incense to ask the dragons to favor their crops or change the weather. Dragons are referred to as the divine mythical creature.
As an animal possessed of magical abilities the Chinese dragon is able to shrink to the size of a silk worm; and then swell up to fill the entire space between heaven and earth. It can make itself visible or invisible, as it so chooses. It can take on human form or that of another animal to carry out some secret mission.
Everything connected with Eastern Dragons is blessed. The Year of the Dragon that takes place ever twelve years is lucky. Present-day Oriental astrologers claim that children born during Dragon Years enjoy health, wealth, and long life.
The Dragon/Chinese Zodiac


The Dragon is a creature of myth and legend. A symbol of good fortune and sign of intense power, the Asian Dragon is regarded as a divine beast - the reverse of the malicious monster that Westerners felt necessary to find and slay. In Eastern philosophy, the Dragon is said to be a deliverer of good fortune and a master of authority. Therefore, those people born in Dragon years are to be honored and respected.

THE SIGN OF THE DRAGON

The key to the Dragon personality is that Dragons are the free spirits of the Zodiac. Conformation is a Dragon's curse. Rules and regulations are made for other people. Restrictions blow out the creative spark that is ready to flame into life. Dragons must be free and uninhibited. The Dragon is a beautiful creature, colorful and flamboyant. An extroverted bundle of energy, gifted and utterly irrepressible, everything Dragons do is on a grand scale - big ideas, ornate gestures, extreme ambitions. However, this behavior is natural and isn't meant for show. Because they are confident, fearless in the face of challenge, they are almost inevitably successful. Dragons usually make it to the top. However, Dragon people be aware of their natures. Too much enthusiasm can leave them tired and unfulfilled. Even though they are willing to aid when necessary, their pride can often impede them from accepting the same kind of help from others. Dragons' generous personalities give them the ability to attract friends, but they can be rather solitary people at heart. A Dragon's self-sufficiency can mean that he or she has no need for close bonds with other people.

DRAGON FACTS:

People born in the Year of the Dragon share certain characteristics. The Dragon sign is an abbreviated way of characterizing that individual's personality. Following are features associated with the sign of the Dragon.

Fifth in order, Chinese name-LONG, sign of luck
Hour-7am-8:59 a.m. Month-April
Western Counterpart-Aries

CHARACTERISTICS
Innovative
Enterprising
Flexible
Self-assured
Brave
Passionate
Conceited
Tactless
Scrutinizing
Unanticipated
Quick-tempered
2012 – Year of the Yang Water Dragon
What kind of year will 2012 be? From a Feng Shui standpoint 2012, the year of the Yang Water Dragon, brings many possibilities for good fortune.
Unlike the wicked, fire-breathing dragons of Western mythology, China's celestial dragon symbolizes potent and benevolent power. Dragons are ancient, majestic, wise, and intelligent, and Dragon years are considered particularly auspicious for new businesses, marriage and children. Dragon years also tend to boost individual fortunes and the world economy.
The Year of the Water Dragon (1992, 1952 and 2012) is noted for its calm, visionary intelligence, and balance of right brain creativity with left brain logic.
Like all Dragons, the Water Dragon is an innovative, fearless leader. But the Water Dragon is also far more sensitive to others' needs, and is more likely to be progressive and diplomatic, as well as socially and environmentally conscious. Because Water bestows a more peaceful disposition, this Dragon will act wisely and intelligently, and unlike his fellow Dragons, is willing to set aside his ego for the good of all.
This Dragon is a successful negotiator, and while he is adept at marketing, he also knows how to apply force skillfully when necessary. On the down side, the Water Dragon sometimes forgets to build a solid foundation for his grand plans, and he can hold on too long to pet ideas and projects, and thus create a famous Dragon-sized disaster.
If you subscribe to the dawn-of-a-new-era theory of 2012, then it's easy to see how the influence of the Water Dragon will increase the likelihood of success for progressive movements gaining momentum all across the globe. Energy conservation and green energy-producing technologies, curtailing Global Warming, challenges to multinational corporations, attention to world hunger and the renewed health of the oceans and sea creatures will all likely fare well.
If your expectations tend more toward disaster, then you might expect tsunamis, hurricanes, monsoons and other weather extremes to be in the headlines.
But of all the Dragon years, the 2012 Water Dragon is most likely to bestow the Chinese Five Blessings of harmony, virtue,riches, fulfillment and longevity, adding even more weight to the growing belief that 2012 will be about breakthroughs, not disasters.
Most people know that water covers 2/3 of our planet & comprises 95% of our bodies; we simply cannot live without it. In Chinese element theory, water produces wood, which signifies growth and is the natural element of the dragon. The dragon governs east/southeast, wealth accumulation & the hours of 7 a.m. - 9 a.m. Associated with thunder, lightning and arousal, the Water Dragon personifies creativity at its best.
In 2012 the Yang Water Dragon Year starts January 23, 2012 and ends February 9, 2013. The energetic high point of the year is the dragon moon, which is from May 20 to June 18 (new moon is May 20, full moon is June 4 and dragon moon is over June 18. June 19 begins the snake moon, which will set up the energy for the following year, 2013, year of the yin water snake.)
Embrace the upcoming 2012 Year of the Water Dragon!